Certificate of Completion
Value: 2 Continuing-Education Units (CEU)
Unique in North-America, this exclusive certificate is awarded to the participants who have successfully completed the Hands-on Workshop & Practical Seminar: the Professional Skills for Writing with Clarity and Impact.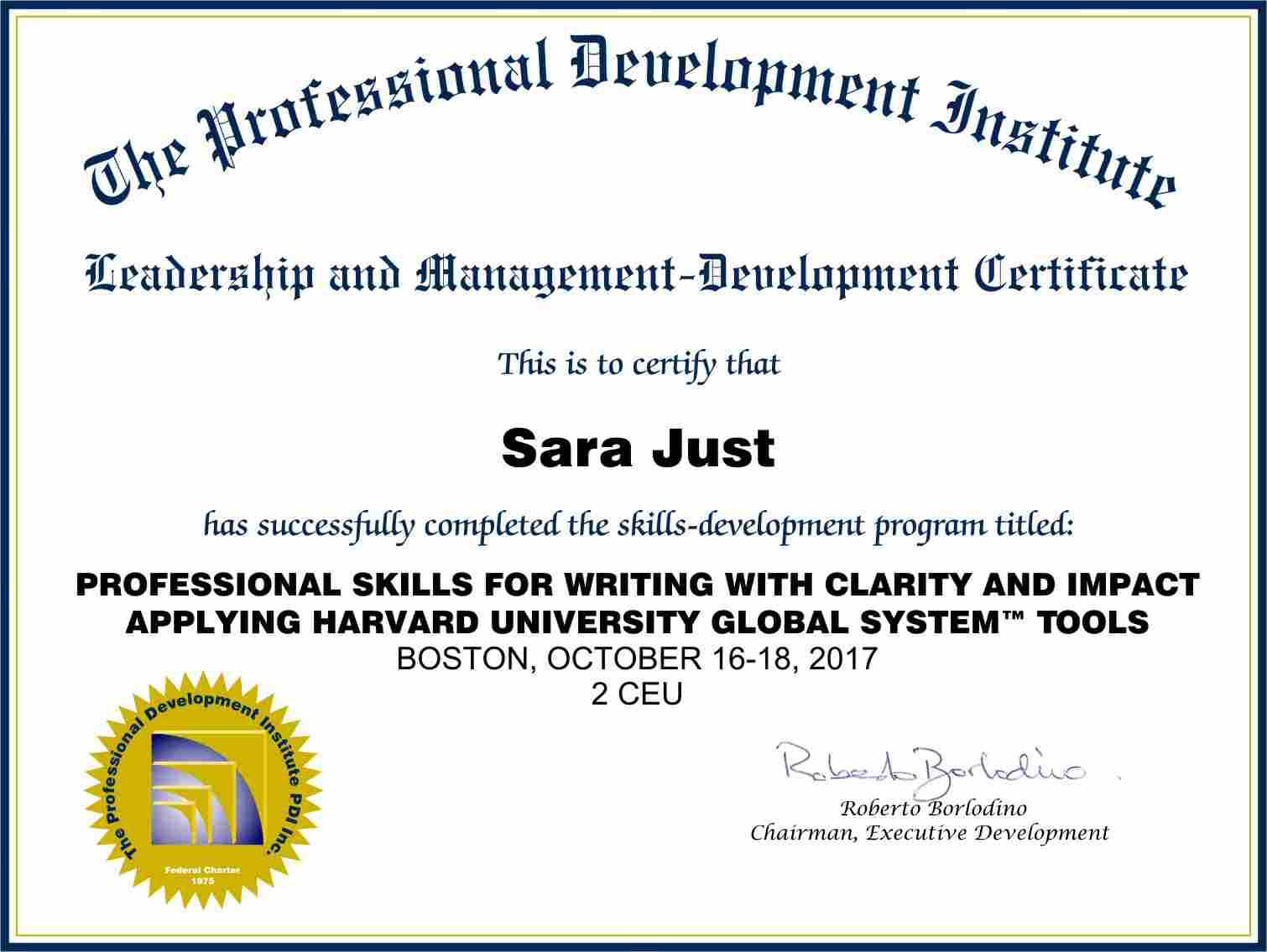 Participants' Feedback
"I have always been satisfied with the powerful method of learning of The Professional Development Institute."
Sandra Louis-Jeune,
Planning Coordinator
Health Canada
"I recommend every administrative professional takes this seminar. It is one of tools really needed in the workplace."
Janie Wesley,
Admin. Assistant
Cree Nation Government
"The course material is exactly what I was looking for. I feel more confident thanks to the skill I acquired."
Dominique Chamsi-White,
Administrative Assistant
Public Safety
"This was a great class with a great content. My writing skills will definitely improve, as I will now be able to question myself. I would definitely recommend this class to anyone who needs a refresher or just to learn the basics of professional writing in English, like me."
Christine Demers,
Administrative Assistant
Health Canada
"Fantastic, fun and well delivered workshop on important writing skills."
Eric Norris,
Project Officer
Correctional Services
"I enjoyed this course as it gave me more confidence to write. It is also a good refresher on grammar."
Maggie Voyageur,
Administrative Technician
Cree School Board
Top of this page
Hands-on Workshop & Practical Seminar
Professional Skills for Writing with Clarity and Impact
Applying Harvard University Global System™ Tools
For Executive Assistants, Administrative Professionals, Team Leaders,
Engineers, Analysts and Managers Who Wish a Review

Focus on Effective Written-Communications Skills
Including the Building Blocks of English (Proofreading, Spelling, Punctuation),
Difficult Expressions and Styles Commonly Used in Business
and Guidance in Crafting e-Mails and Letters
Ottawa-Gatineau Campus

April 23-24, 2018

Boston

August 6-8, 2018

Montreal

October 22-24, 2018
"The power of language is undeniable, and irresistible. In no small part, changes that fundamentally shape the world we live in today resulted from leaders for whom language itself was a form of action. Those who inspire others to abandon the innate human resistance to change and risk a better future so often share an important common trait: a gift for language, and a capacity to compel others through the power of the spoken word. A leader must inspire others to believe in possibility in order to be able to motivate them to follow and to act."

Excerpts from Harvard University's President Drew Faust's Speech to the United States Military Academy, West Point, NY; March 24, 2016.



WORKSHOP OBJECTIVES
Crafting email, reports and daily correspondence with clarity, coherence and impact is vital for all employees. That is why good writers are sought everywhere, but they are not easy to find. Not many people are in complete control of their written communications; not everyone is able to write a message so that they convey exactly what they mean and achieve their intended effect on their readers.

As a participant, you will practice with unique exercises designed to reinforce learning and improve your written communication skills. You can expect to acquire lasting skills and increased proficiency in business correspondence, the cornerstone of corporate productivity and personal success.

Who should attend: Managers, team leaders, executive and administrative assistants, proofreaders, engineers, IT analysts and other professionals who would benefit from a refresher course in the building blocks of English (proofreading, spelling, punctuation); a review of difficult expressions and styles commonly used in business; instruction that will result in concise, readable English; guidance in crafting more effective letters and memos.
DETAILED OUTLINE (2.5 DAYS - 2 CEU)
1. Mechanics and Grammar
Sentences:
what different kinds of sentence can we write?
How do our sentences either clarify or obscure our message?
How can we craft sentences that build suspense, lead to a climax, present information clearly, and give readers a clear picture of our meaning?
Punctuation:
what are the rules for commas, semi-colons, colons, apostrophes?
Do the rules make sense, and are we able to use the rules properly to maximize our readers' understanding of our message?
Grammar:
what is a modifier, and how can it be manipulated in a sentence to add emphasis?
How do we use pronouns correctly, and how to we make sure that they are always clear?
What does 'parallelism' mean, and how can it help our writing?
Spelling:
what are some tricks we can use to ensure that our spelling is correct the first time?
2. Crafting a Message Part One: What am I saying?
How do I know what I want to say?

How do I know what the reader wants to know?

What do I need to say or not say? How do I organize these thoughts?

Is one idea a digression or an essential part of my message?

How do I eliminate digressions and focus on the essentials?
3. Crafting a Message Part Two: How am I saying it?
What strategies can I employ to make sure that I am going to get the response I want from my readers?

How can I make my readers understand me at their ease?

What are the qualities of good writing, and how do I balance them?

What are rhetorical strategies, and how can I use them?

Can I recognize features of good writing in what I read?

How do I evaluate my own tone and make sure it is suitable and appropriate in all occasions?
In this workshop, we will consider various forms of formal and informal writing. Our final goal is to take responsibility for our ideas in words, and we will work on developing the confidence to do so.
BRING THIS WORKSHOP TO YOUR ORGANIZATION
We deliver in-house versions of this workshop worldwide to business and governments, NGOs and bar associations and other societies. We would be delighted to work together with your team anywhere. Ask us for a proposal based on the number of participants, the seminar duration and a selection of cutting-edge course materials and case studies most applicable to your environment.

Our fees are most reasonable. If required to support your request, we would provide supporting evidence for service fees recently billed to governments and companies.

The travel expenses for seminar leaders are on cost-recovery basis. They include airfare, ground transportation, meals, gratuities, airport taxes and hotel accommodation. There is no travel expense for seminars held in the cities of New York, Boston, Cambridge and Ottawa where we hold regular public workshops. If applicable in your jurisdiction, sales and value-added taxes (HST and PST or VAT) are extra.

The client is responsible for the conference room, audio-visual materials including 2 flip charts, an 8x8 feet projection screen, internet access, a digital projector for PowerPoint presentations and a laptop computer (as a back-up machine). We also recommend round tables, each seating five participants, in a crescent arrangement, to face the workshop leader.
DURATION, FEES and CEU VALUE
Duration: 2.5 days from 8:30 a.m. to 4:30 p.m. day 1 and 2, from 8:30 a.m. to noon day 3
Value in Continuing Education Units: 2 CEU
Locations
Tuition Fees

Fees include books, hand-outs, road maps and other course materials of exceptional value (see above), a daily continental breakfast, a light luncheon plus hot and soft drinks twice a day.

Regular fees: $1395; government: $1345; group fees for 3 or more delegates registering for the same session at the same time: $1295 per participant. Add taxes for non tax-exempted participants

Complete 5-day Program: $2495; government: $2445; groups for 3 or more participants: $2395 per participant. Add taxes for non tax-exempted participants.
WORKSHOP LOCATIONS AND HOTEL ACCOMMODATION
REGISTRATION AND CANCELLATION PROCEDURES
How to Register:
Please register,
online
, call us weekdays (9 AM - 4:30 PM EDT) at +1 819-772-7777; toll free in the USA and Canada: 1-800-HARVARD and pay in advance by cheque or credit card.
Send your cheque payable to: The Professional Development Institute PDI Inc.
Cancellation Policy:
Participants registering as a group must send substitutes in lieu of cancelling. For other clients, cancellations are accepted if made at least 10 working days prior to the course, and are subject to a $150 service charge per person. Full fees are payable by anyone who fails to attend or cancels less than 10 working days prior to the session. One substitution or transfer to a later course of the same duration is accepted.
PERSONAL COMFORT, DRESS CODE and PHOTO SESSION
The dress code is business casual at your discretion. Trust your judgment. When unsure, err on the side of caution. If overdressed, you can remove a tie or a jacket and roll up your sleeves. Members of the Canadian Forces and the U.S. defense community can, at their discretion, either dress casually or keep the uniform.

You will be reminded the first day to dress the way you feel most comfortable for a photo session the next morning.

Although every effort will be made to ensure a pleasant learning environment including a suitable temperature, we recommend you bring a sweater or a jacket to the classroom as individual comfort zones differ and sudden variations in the weather can temporarily affect air conditioning.

Also please kindly refrain from using strong fragrances during the session in order to accommodate your fellow participants who suffer from asthma.
Top of this page
Cambridge, MA, USA. 1-800-HARVARD or +1-819-772-7777
Monday through Thursday: 9 AM to 4:00 PM, Eastern Time. Voicemail: 24 hours 7 days
Ottawa, ON, CANADA
Worldwide Order Center & Main Training Campus: 70 Technology Boulevard
Gatineau, QC J8Z 3H8 CANADA. 1-800-HARVARD or +1-819-772-7777
Monday through Thursday: 9 AM to 4:00 PM, Eastern Time. Voicemail: 24 hours 7 days
European Distribution Centre for Harvard Planners: WH Smith, 248, rue de Rivoli, Paris,75001
Dorothée Ben Tahar: +33 1 44 77 88 99 Extension 1 (Stationery). Concorde Métro Station.