Certificate of Completion
Value: 2 Continuing-Education Units (CEU)
Unique in North-America, this exclusive certificate is awarded to the participants who have successfully completed the Workshop "Executive Assistants & Administrative Professionals Applying Harvard University Global System™"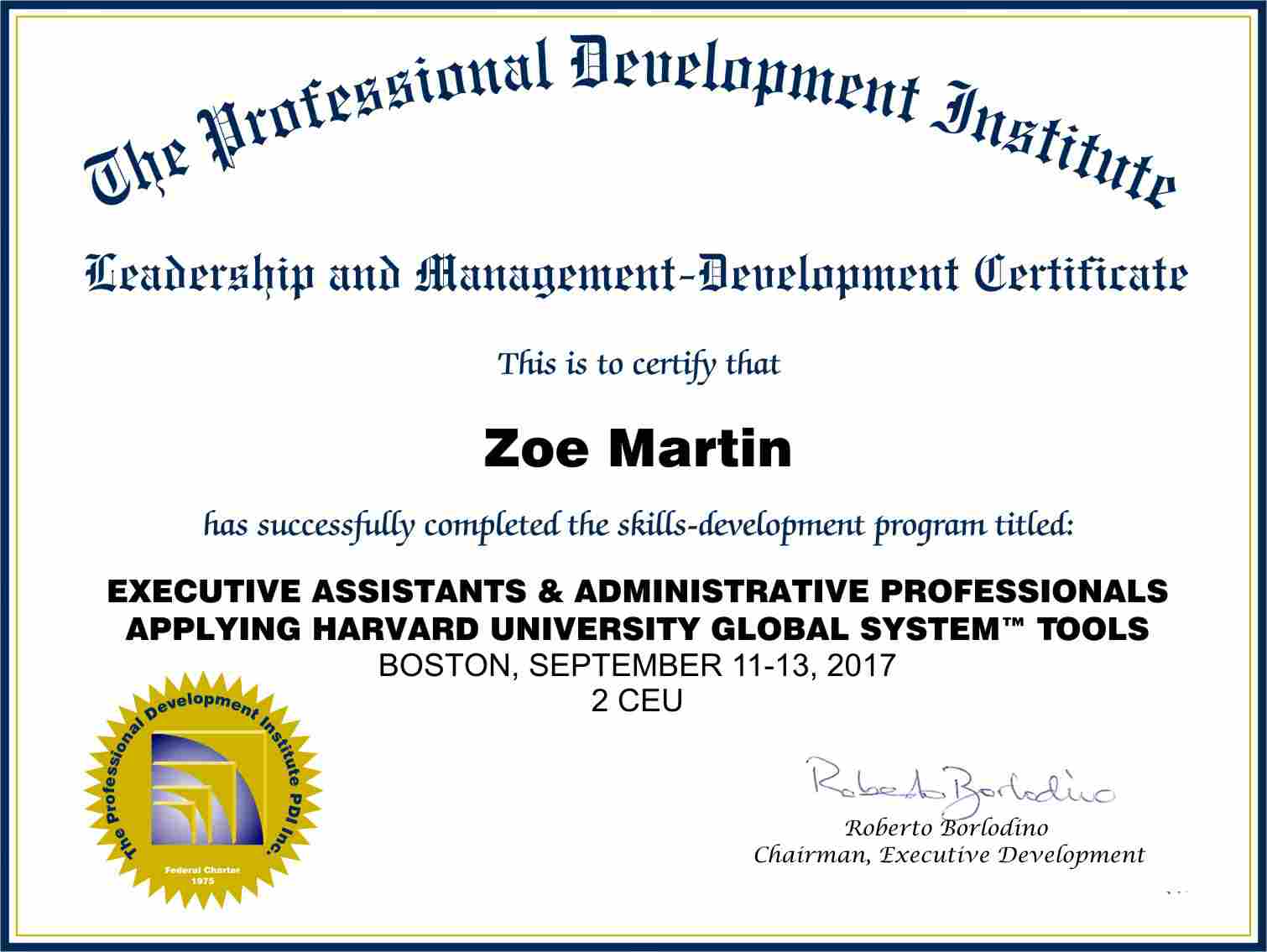 Video Testimonies
Participants' Feedback
"Mr. Martin is very knowledgeable and engages his students on real life situations and challenges you to think deeper on the topics."

Melissa Schaefer, Executive Assistant
Skyjack Inc., St. Charles, Illinois
"I found this course to be very informative and helpful to my position. I look forward to using the tools I have learned over the past couple of days at my workplace. I feel very fortunate to be able to attend this seminar at the start of my career; I will use most of the tools and suggestions from Mr. Martin on a everyday basis."

Melanie Farmer, Executive Secretary
Canada Border Services Agency
"The course is packed full of vital information. Goes into depth in certain areas. Very fast paced. Will definitely be able to apply it to my job."

Jill Lindeman, Executive Assistant
Premier Manufacturing, Cincinatti, OH
"Mr. Alain Paul Martin is a very knowledgeable person, very interesting to listen to. Three-day seminar well worth the price... Keep up the good work."

Aline Hawthorne, Assistant to the Director General,
Public Service Commission
"Every government department or agency should seriously consider this workshop as part of mandatory curriculum for the administrative assistants. I will definitely be promoting this workshop to colleagues and associates back in the workforce."

Darlene Mayer
Public Administration Development Centre
Canada School of Public Service
"Refreshing, honest and direct delivery. No time wasted!"

Patricia Carisse, Media Strategist
TV and Video Production Advisor
"This course is so intense and so enjoyable. I will now be able to work with and understand any type of manager."

Sharon Binz, Administrative Assistant
Defence Construction Canada
"If you wish to enrich your knowledge, take the plunge and participate in this course. It will help you move up in your career."

Natalie Gendron, Administrative Secretary
University of Ottawa
"It is wonderful to have a course for assistant level which provides tools, valuable information and the encouragement that assistants can move up."

Kim Mageau, Planning Administrator
NAV Canada
"Je suis venue au cours avec beaucoup de réticences. Alain Paul est l'exception qui confirme la règle. Il m'a beaucoup appris et motivée."

Pauline Heyendal, Adjointe de la greffière
Comité des griefs des forces canadiennes
"Stimulating, task oriented and very enlightening; this course is what we all need as administrative assistants."

Samba Matabaro, Administrative Assistant
Department of National Defense
"I would recommend this Institute. I have learned well in the last 3 days and am certain that the new knowledge will make me more efficient."

Patricia Peer, Administrative Assistant
Transport Canada
"The material covered can/should be applied to all areas of life, not just business. I feel inspired to seek beyond my present accomplishments."

Bonnie Dow, Administrative Assistant
Natural Resources Canada
"I have enjoyed the seminar very much. It was very informative and interesting."

Kim McCool, Administrative Assistant
RCMP
"This is by far the most enriching seminar I have attented in my career. It has taught me so much, I strongly believe it will help me improve my productivity and time. I can't wait to use my new tips and tools, both at home and at work."

Paulette Ménard, Executive Assistant
Privy Council Office
"Better than any other course for assistants!"

Martine Tardif, Administrative Assistant
Health Canada
"This workshop was interesting informative, and most important, provided me with new concepts and tools to improve workplace processes. I'm excited to put these new skills into practice for my own benefit and that of my team and our organization as a whole."

Robyn McNeil, Executive Assistant
REDspace Inc., Bedford, NS
"This seminar helps me validate priority and deadlines, manage time, conflict and difficult people in a very friendly and relaxed environment. Excellent assistance!"

Allet van Niekerk, Administrative Officer
Department of Decision Science
University of South Africa, Pretoria
"I learned more than I could imagine and I do feel empowered to succeed. I look forward to taking other courses."

Angela Giles, Administrative Assistant
Bell Canada
"The skills that have been taught are extremely versatile, and transferable across all facets of our busy and complicated lives… incredibly useful!"

Kelly McCabe, Executive Assistant
Public Health Agency of Canada
"Excellent workshop will benefit professional development and growth of even the most experienced and intelligent administrative or executive assistant."

Annette Pradolini, Executive Assistant
Chair, Laboratory Sciences
Michener Institute
"Truly Enlightening and attitude changing. An intense and satisfying learning experience."

Pilar Sancho, Administrative Assistant
Health Canada
"As a good listener, I really enjoyed it and met different people from all over the world."

Elaine Akulukjuk, Executive Secretary
Legislative Assembly of Nunavut
"I now have a better understanding of myself and my boss."

Kathleen Alexander, Program Coordinator
George Brown College
"I am very pleased and happy to have attended this seminar. I learned so much more than I expected. The speaker is very impressive and a real source of inspiration."

Anne Garand, Administrative Assistant
CFSCE, Department of National Defense
"I enjoyed this seminar tremendously and intend on bringing back all the knowledge I have acquired here and exercise it in my workplace."

Mélanie Joanisse, Administrative Assistant
Industry Canada
"This is the first Administrative Assistants course that I have attended that actually provides useful information that I can bring back to my office and put into practice. Thank you, Alain."

Lucie Greffe, Executive Assistant
NAV Canada
"Filled with real-life examples, this seminar will help me in: setting priorities, dealing with difficult people and managing my time."

Vanessa Pereira, Executive Assistant
Renaissance Reinsurance
"Alain Martin has an extraordinary ability to empower his listeners to think critically about their job."

Michelle Lynch, Assistant to the Dean
Business and Creative Arts
George Brown College, Toronto
"I will recommend this course to other administrators to incorporate into their learning plans as it is the most beneficial course, far more than I imagined."

Brenda Price, Administrative Officer
Justice Canada
"Well planned, well resourced and well presented. I enjoyed it immensely."

Lucie Webb, Executive Assistant
Renfrew Family & Children's Services
"I would highly recommend any course given by Alain Martin. His expertise and knowledge can be benefited by all. This course has exceeded my expectations."

Linda Molyneaux, Executive Assistant
Bank of Canada