Click for larger image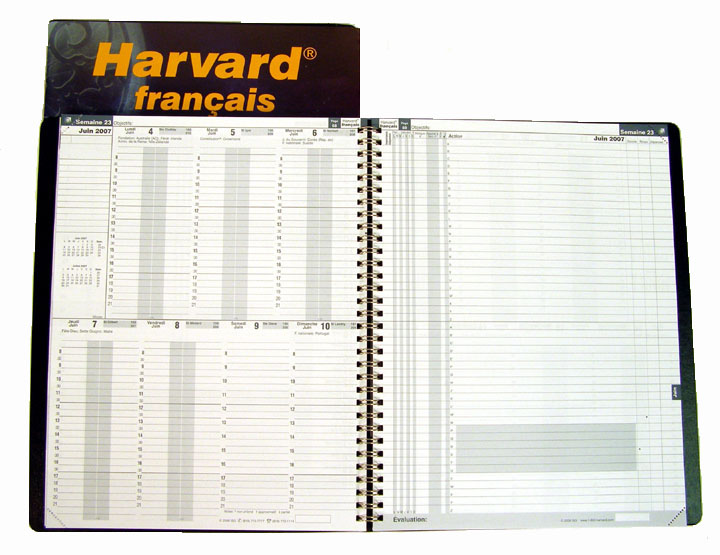 Number of items in your Cart: 0


Harvard® français
Desk size
French
Wire-O bound
8½" X 11" (21 X 28 cm)
Code 1F
$35.99
50% off retail price of 2020 Harvard® Planners
If you work on numerous activities at the same time, you need the Harvard® Élite français, the personal system that grows with you. Having the whole week on one page offers you two lines per hour to schedule every ten minutes of your day.
Other Clients also ordered:

Desk Size Leather Cover

15% discount




Main Features of the Harvard® français (desk size):

Two pages per week
Full left hand-side page for appointments with 2 lines per hour
Full right hand-side page to log actions with columns:

Importance & Sequence
Planning & Execution
Delegate to
Defer to
Role
File, Time and Expenses

Pages for telephone numbers
150-year calendar (1900 to 2050)
Yearly Goal-Setting Pages

Month-at-a-time calendar and full-size page for objectives at the beginning of each month
Meeting & Contact Forms
Expense logs
5-year holiday grid (Canada & US)
List of public holidays, telephone area codes and international time zones for 120 countries
Metric and Imperial Measures conversion information
Fahrenheit-Celsius conversion information
Metric and Imperial grid paper
Project log
Pages for notes
Detailed user guide
Toll-free: USA & Canada: 1-800-HARVARD (1-800-427-8273). +1-819-772-7777
Monday through Thursday: 9 AM to 4:00 PM, EDT. Voicemail: 24 hours 7 days

European Distribution Centre for Harvard Planners: WH Smith, 248, rue de Rivoli, Paris,75001
Dorothée Ben Tahar: +33 1 44 77 88 99 Extension 1 (Stationery). Concorde Metro Station.