Certificate of Completion
Value: 2 Continuing-Education Units (CEU)
Unique in North-America, this exclusive certificate is awarded to the participants who have successfully completed the Advanced Workshop: Exemplary Team-Leadership Skills II.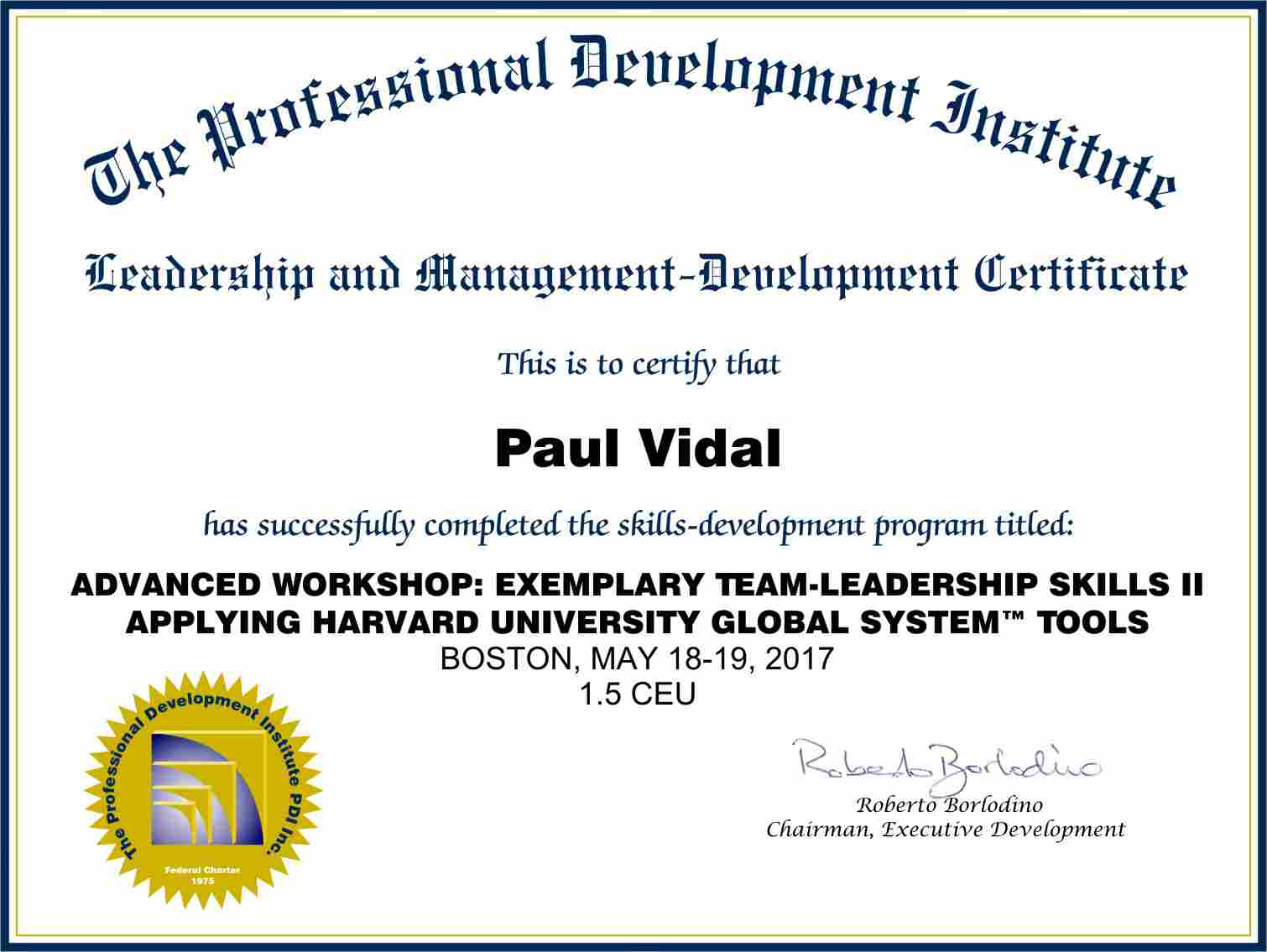 Participants' Feedback
"Excellent seminar, very valuable information, highly recommended!"
Jennifer Farrell
Specialist, Business Development
Veritaaq Technology
"This is very worthwhile course. Tangible and concrete examples we can use in any setting. The tools are excellent."
Michelle Ryan
Team Leader
Heritage Canada
"Thank you very much for your dedication in your teaching. You are so brilliant and can only be beneficial for us to learn from your experience, expertise and knowledge. Merry Christmas and Happy New Year 2016."
Carole Faubert
Project Officer, Innovation
Sciences and Economic Development Canada
"I will recommend this course to our upper management, I consider this course as a "Must take course" for all managers, if not all employees."
Nooshin Ahmadipour Head, Adverse Events Following Immunization Surveillance System
Public Health Agency
"The course material reveals the complexity of risk management as a philosophy, not just an additional task to be tacked on the project plans; yet organizes the philosophy to make the task manageable."
John Wilson
Team Leader
Immigration & Refugees Board
Top of this page
Advanced Workshop & Practical Seminar:
Exemplary Team-Leadership Skills II
Focus on Strength Deployment, More Leadership Skills and Career Growth
Applying Harvard University Global System™ Tools
Ottawa-Gatineau Campus, Canada

March 28-29, 2019
To Register, please call 1-800-HARVARD
International +1 819-772-7777. Thank you.

WORKSHOP OBJECTIVES
This intensive 2-day session provides new leadership skills, solid techniques and practical tools to make sound decisions, unleash your potential and accelerate your progress toward greater success. The objective is to fully utilize your potential, to excel as a coach and competent manager for individual and team success, and in the interest of your organization. By applying the newly acquired skills, you will be able to improve your performance, identify new strengths, prepare for the unexpected, gain more professional freedom, and chart your future, using a proven Gestalt approach.

The complete 4.5-day program provides, in an intensive week, the skills that require years of experience by learning management on the job.
DETAILED OUTLINE (2 DAYS - 1.5 CEU)
1. Advanced Session on Strength Deployment
What are your strengths normal and crisis situations?

Psychometric exercise on strength deployment
2. How to Conduct 360° Performance Reviews
Two exercises: Sensitive performance reviews

How to praise, reward, and share negative feedback

Managing nine staff reactions: Current best practices
3. Sharing Resources in a Matrixed Organization
Matrixing employees to get results: Four perequisites

Exercise: Leading staff reporting to multiple bosses
4. Building on Experience since the First Seminar
Participants will discuss experience in teams:
managing difficult people, team building, conflict
resolution, motivation, delegation and decision value
5. Practical Lessons from Exemplary Leaders
How a front-line manager at Alcan turned diversity
from a perceived threat into a productivity success story

More inspiring women and men

How Zero-tolerance of inequity improves teamwork
6. Road Map to Take Full Control of Your Career
Prerequisite to Admission
WORKSHOP LEADER: Alain Paul MARTIN
A Harvard Fellow (Advanced Leadership) educated in the science and practice of strategy, negotiation and team leadership (Harvard Business and Law Schools, Concordia, MIT), Alain Martin is a multilingual professional speaker on exemplary leadership, negotiation and skills to boost innovation quality, capacity, velocity and usability.

A board member in the USA, Canada, Europe and Japan, Alain works mostly behind the scene coaching executives, team leaders, scientists, negotiators, marketers, lawyers, intelligence analysts and executive assistants. An inventor who held patents (USA, Canada, Japan), Alain is the Chief Architect of Harvard University Global System™ (HUGS), the innovative framework and practical toolkit applied in strategy formulation, principled negotiation, risk and project management, personal time management, team productivity and product/service incubation, design, prototyping, development, production, value extraction and client retention.
Alain has advised two prime ministers of Canada (4 years), the UNESCO's Director General, the CEOs of biotechnology firms (BiokPlus), APOC's CEO, Desjardins (the world's second strongest bank according to Bloomberg) for 10 years. He held risk- and IT-management positions at Du Pont, Bombardier, Domtar and CBC-SRC. He was twice a faculty member at the University of Quebec where he taught negotiation and change management in the M.Sc. and MGP Project-Management programs.

Alain led assignments where sensitive multipartite negotiations were of paramount importance, including: (a) the incubation of the Canadian Food Inspection Agency with Dr. Brian Morrissey; (b) a brainstorming retreat with Health-Canada's executives and medical professionals to prepare a risk-management strategy nine months before Mad Cow was diagnosed in Canada; (c) a proposal to the Prime Minister on defusing the growing tensions between Canada and its Asian trade partners, particularly Japan, following the discovery of mad-cow disease in Alberta; (d) the merger of five agencies mandated to protect investors, maintain the integrity of securities markets, and regulate financial institutions in Quebec; (e) the creation of a trilateral cooperation network to mobilize Canadian talent and know-how with petrodollar financing (Kuwait, Abu Dhabi) for the benefit of the poorest nations in Asia and Africa; (f) coaching leaders of the First Nations in British Columbia and those of the Sakha (Yakutia) Republic to apply principled negotiation in resolving critical issues with their respective federal governments.

Alain has worked with Boeing, Boliden, Bombardier, Cap-Gemini, Desjardins (banking, insurance), E.ON (wind energy), Foro de Excelencia (Spain), France Loisirs, GE (USA, Canada, Europe), Skanska, Textron's Bell Helicopters and governments. He led seminars for IEEE, PMI, operations-research societies (INFORMS, CORS), the Ivy-League's Leadership Summit at Harvard, and Japan's Engineering Advancement Association, METI, APEO, the last two International Forums of Excellence in Spain and the UN University in Tokyo. Early in his career, Alain led international capital projects ranging from inter-city microwave links to roads and bridges, funded by CIDA and the World Bank.

In mining, oil and gas, Alain advised the government on large-scale risks in Canada's North and Arctic (2014-16) and continues, for years, to counsel executives and scientists of Teck's Applied Research & Technology on strategy and project management.

Alain was selected as a 2012 Harvard Fellow in Advanced Leadership (ALI) with peers committed to address important issues including the environment, health, education and governance. During his fellowship, Alain honed his expertise in large-scale risks, mentored and delivered leadership seminars to Harvard University's and other Ivy-League's students and led the incubation of a complexity-reduction lab.

A current member of Harvard Faculty Club, Alain graduated in Commerce (Quantitative Methods) from Concordia University and is a Harvard Business School's alumnus in entrepreneurship (OPM, 1997-1999). He fine-tuned his skills in management of change and social psychology at MIT and the Gestalt Institute of Cleveland. He is also certified to teach negotiation in the corporation by Harvard Law School where he was privileged to learn from Robert Mnookin, Lawrence Suskind, Bill Ury, Bruce Patten and the late Roger Fisher.

Recognized by the Project Management Institute (PMI) for "his outstanding contribution to the state-of-the-art of project management", Alain was also honored by the Presidents of Harvard University and Harvard Alumni Association for his "Leadership, Vision and Service" to Harvard community. He is the author of the book titled " Harnessing the Power of Intelligence" which was recommended by leading scholars, corporate executives and the competitive-intelligence community in Fortune 100 companies, the Chief of the Defence Staff of the Canadian Forces and the Office of the Chairman of the Joint Chiefs of Staff of the US Department of Defense. Building exemplary teams and leaders is the subject of Alain's upcoming book.
Alain's pro-bono work focuses on funding and providing advice to advance health, education and poverty reduction. He is a founding sponsor of Roger Fisher House, a conflict-resolution catalyst that is now part of Mercy Corps. He is an Advisory Board Member of both Social Hearts (Japan) and New York's Build Academy for global education in architecture, engineering and construction. Inspired by Drs. Jim Kim and Paul Farmer, Alain led the creation of Partners in Health Canada by mobilizing resources to (a) incorporate PIH as a charitable organization; (b) link PIH to strategic allies and philanthropies; (c) host funding events and (d) manufacture and deliver a fuel truck for PIH clinics in Haiti. He led funding projects for the victims of Haiti's earthquake, Japan's Tohoku earthquake and tsunami and Hurricane Sandy (with the support of French Embassy in Washington). He also orchestrated initiatives for CHEO Children's Hospital, Food Banks, Canada Without Poverty and led three times Harvard's Global Month of Service.
TUITION FEES
| Tuition Fees | Regular | Govt. | Groups of 3 |
| --- | --- | --- | --- |
| Seminar I (2.5 days, Page 5) | $1395 | $1345 | $1295 each |
| Adv. Seminar (2 days) | $1095 | $1045 | $995 each |
| Complete 4.5-day program | $2395 | $2345 | $2295 each |
REGISTRATION AND CANCELLATION PROCEDURES
To register, please contact us by email at
rsvp@eharvard.org
or call us weekdays (9 AM - 4:30 PM EDT) at +1 819-772-7777; toll free in the USA and Canada: 1-800-HARVARD and pay in advance by credit card.
Send your money-order payable to: The Professional Development Institute PDI Inc.
Cancellation Policy:
Participants registering as a group must send substitutes in lieu of canceling. For other clients, cancellations are accepted if made at least 10 working days prior to the course, and are subject to a $150 service charge per person. Full fees are payable by anyone who fails to attend or cancels less than 10 working days prior to the session. One substitution or transfer to a later course of the same duration is accepted.
WORKSHOP LOCATIONS AND HOTEL ACCOMMODATION
PERSONAL COMFORT, DRESS CODE and PHOTO SESSION
The dress code is business casual at your discretion. Trust your judgment. When unsure, err on the side of caution. If overdressed, you can remove a tie or a jacket and roll up your sleeves. Members of the Canadian Forces and the U.S. defense community can, at their discretion, either dress casually or keep the uniform.

You will be reminded the first day to dress the way you feel most comfortable for a photo session the next morning.

Although every effort will be made to ensure a pleasant learning environment including a suitable temperature, we recommend you bring a sweater or a jacket to the classroom as individual comfort zones differ and sudden variations in the weather can temporarily affect air conditioning.

Also please kindly refrain from using strong fragrances during the session in order to accommodate your fellow participants who suffer from asthma.
BRING THIS WORKSHOP TO YOUR ORGANIZATION
We deliver in-house versions of this workshop worldwide to business and governments, NGOs and bar associations and other societies. We would be delighted to work together with your team anywhere. Ask us for a proposal based on the number of participants, the seminar duration and a selection of cutting-edge course materials and case studies most applicable to your environment.

Our fees are most reasonable. If required to support your request, we would provide supporting evidence for service fees recently billed to governments and companies.

The travel expenses for seminar leaders are on cost-recovery basis. They include airfare, ground transportation, meals, gratuities, airport taxes and hotel accommodation. There is no travel expense for seminars held in the cities of New York, Boston, Cambridge and Ottawa where we hold regular public workshops. If applicable in your jurisdiction, sales and value-added taxes (HST and PST or VAT) are extra.

The client is responsible for the conference room, audio-visual materials including 2 flip charts, an 8x8 feet projection screen, internet access, a digital projector for PowerPoint presentations and a laptop computer (as a back-up machine). We also recommend round tables, each seating five participants, in a crescent arrangement, to face the workshop leader.
Top of this page
Cambridge, MA, USA. 1-800-HARVARD or +1-819-772-7777
Monday through Thursday: 9 AM to 4:00 PM, EDT. Voicemail: 24 hours 7 days
Ottawa, ON, CANADA.
Worldwide Order Center & Main Training Campus: 70 Technology Boulevard
Gatineau, QC J8Z 3H8 CANADA. 1-800-HARVARD or +1-819-772-7777
Monday through Thursday: 9 AM to 4:00 PM, Eastern Time. Voicemail: 24 hours 7 days
European Distribution Centre for Harvard Planners: WH Smith, 248, rue de Rivoli, Paris,75001
Dorothée Ben Tahar: +33 1 44 77 88 99 Extension 1 (Stationery). Concorde Metro Station.